Over 10+ free lace stitch cardigan knitting patterns to make for baby!
There is something special about a lovely handmade lace cardigan to give as a gift to a new baby. Lace cardigans not only keep little babies warm, they can also become family heirlooms that can be handed down for many generations to come.
Simple eyelets, floral lace motifs, chevron lace, feather and fan ripple stitches, lace details on the edges, lace details on the cuffs and lapels. The variations are endless!
Below you will find amazing free baby cardigans to make for every type of knitter, from easy to intermediate to more advanced lace stitches.
Lace and Flower Embroidered Baby Cardigan Knitting Pattern
Delicate cabled cardigan with pretty floral details. Shown in Patons Astra.
Sizes: 0-6, 6-12, 12-18, 18-24 Months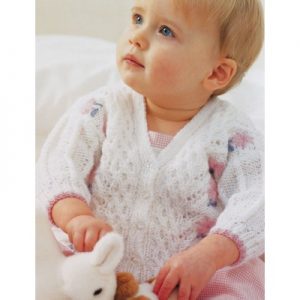 Baby Lace Cardigan
Designed by Julie Hines
This comfy, raglan-style sweater features a pretty pattern of knitted lace on each front.
Sizes: 6-12 months, 12-24 months, 2-3 years, 3-5 years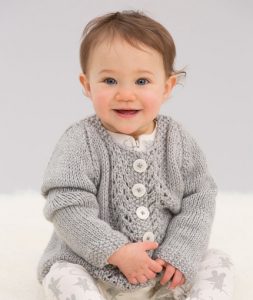 Here's My Heart Cardi
Designed by by Susie Bonell.
Sizes: 6 months, 18 months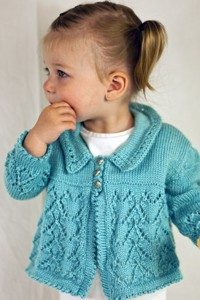 Sunnyside Baby Sweater
Designed by Tanis Fiber Arts
Sizes: 3-6 (6-12, 12-18, 18-24) months
Stunning little raglan baby cardigan to make with a lace panel motif in the raglan section and on the lapels.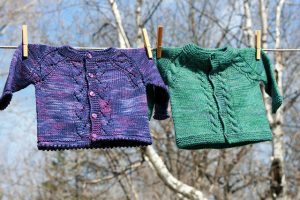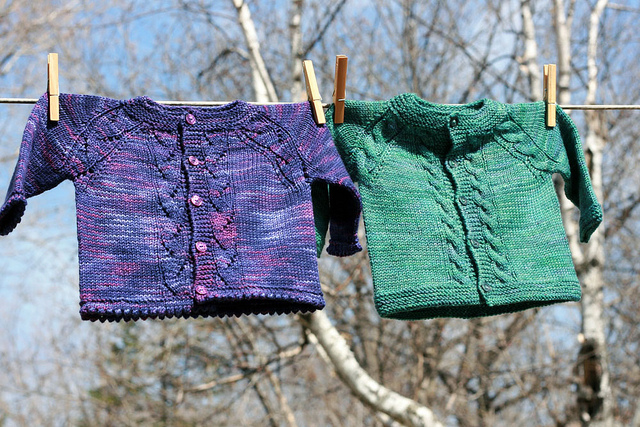 Marianna's Famous Top-Down Cardigan with Sleeves
Designed by Marianna's Lazy Daisy Days
Sizes: 0 – 6 months
Super cute baby cardigan to knit, created from the top down with a lace motif on the yoke and cuffs.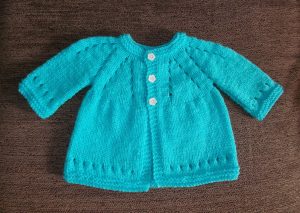 Lillie Baby Cardigan
by Laura Edwards
Lovely little feather and fan stitch baby cardigan to knit up.
Sizes: 0 – 3 months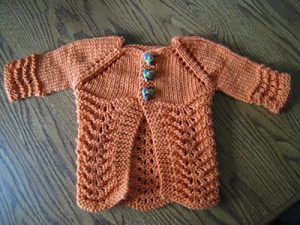 Cashmere baby cardi knitting pattern
Pretty long sleeved baby cardigan knitting pattern with lace flowers.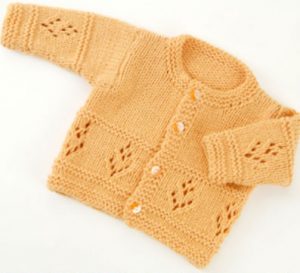 Patons' Matinee Jacket for Baby
With its diamond lace yoke and crown motifs, this garment is special enough for a christening and is sure to become a family heirloom.
Sizes: 6 – 12 months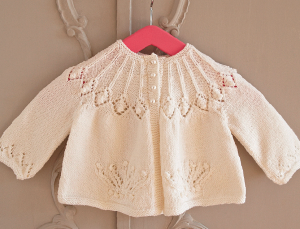 Presto Chango Cardi Knit Pattern
Designed by Valerie Wallis.
The sweater is knit in two pieces. The main piece is knit up the back and down the front. A detachable front panel is knit with buttonholes on both sides.
Sizes: 6, 12 and 24 months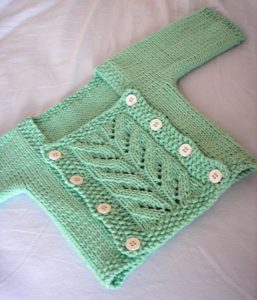 Star Bright Baby Cardigan and Hat
Designed by Heather Lodinksy
The Star Lace pattern that encircles baby's face. The lace looks great with the seed stitch contrast.